Yesterday, I installed the lights at home, the effect is so good, and we are very satisfied.
The living room is a crystal lamp, which is better than the ordinary crystal lamp. If it is a linked crystal lamp, please take care of it, and you have to change the hook again. This is all solid, then you can take the feather duster. The light luxury, how can we reduce the metal and crystal? it is also a sense of a few chandeliers, trouble is trouble, the price is more cost-effective.
Here is the evaluation of this lamp:
★ Decorate your room with exquisite and simple lighting. Modern and minimalist style, dozens of crystal glass drops sparkle in your home, adding classic charm and retro style, including light source, crystal ball ceiling light 25cm long. 25cm wide, height: 26cm, weight 2.5kg, model: LED light.
★ This modern crystal raindrop chandelier is suitable for: bedroom balcony, small crosswalk, kitchen lamp and other places, the irradiation area can reach: 8m2-10m2.
★Environmental protection, low heat, safety, durability, no mercury, harmful substances, light intensity. Beautiful and stylish, high quality, improve the quality of life.
It is not only a lighting tool, but also a decorative piece of your home!
★ We will be responsible for our services and products. Guaranteed UL/CE/FCC certification.
Quality
All the lights are made by famous factories.
Quality assurance inspection and drop test are performed before leaving the factory.
We use high quality components. That is, wires, sockets, etc.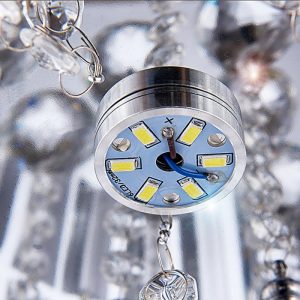 Crystal
All the crystal parts used on the lamp are real crystals.
We don't use acrylic.
The best way to distinguish between crystals and acrylics is to burn it off.